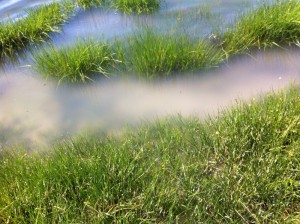 From Cape Cod comes this fishing report by Gary Cwyk. The striper fishing has been very good this week, with the Brewster Flats and the Orleans area on the bay side producing especially well for this time of year
Early in the week the outer beaches were rough from several days of east wind, not to mention full of seals. But the water settled as the week progressed and Truro on the ocean side has produced some nice fish.
The Cape is loaded with bait right now. On the Brewster Flats the bass are chowing on sand eels. Monday morning we found ourselves surrounded by tailing fish that were rooting their meal right out of the sand. The outer beaches are thick with herring two to four inches long. The estuary grasses are swarming with mummichogs. And everywhere on the Cape the spearing are on the spawn; The picture at right shows water cloudy with spearing milt.