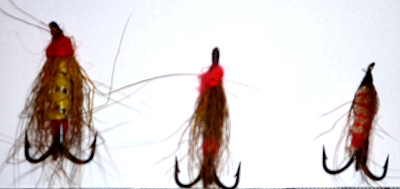 A large part of what makes running this web site fun is the people you meet. Last week's newsletter brought a reply from  Doctor Robert Gartside of the Lake District in the UK–not a relative of Jack's, but a sharer of  his  love for of angling.
A tyer himself, he wrote "When I fished Tweed, I tied a fly which I called the Gartside Grub. It was a salmon fly on a  fair sized treble  with a red wool tag and mingled brown & yellow deer hair wings a body of olive wool ribbed with red floss.. As simple as that but it looked just right in the Autumn colours and caught a fish first time out. My Ghillie was delighted as it was the first for his boat for a fortnight and I went on to catch my biggest salmon (25lbs)  and also my best catch of five in one day. I also had the  unusual experience of getting  three fresh salmon in four casts and the first weighed 21 lbs."
That's some pretty outstanding fishing. I asked for a picture of a Gartside Grub and he was kind enough to send this one. Not the best photo but Jack would have been delighted.
He also included a fishing report (always love reading those!): "…It is  really the off season for game fishing here but that delightful fish the Grayling is still in season and I am patiently awaiting an opportunity to take my friend Lord C. to fish for them on the Hodder…"