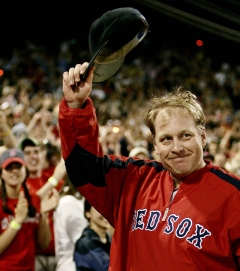 We take our Red Sox baseball seriously at jackgartside.com, so it was big news when reports surfaced on Friday that Curt Schilling (Jack's favorite pitcher) has a serious injury to his rotator cuff that could cause him to miss part or all of the 2008 season. These reports set off a round of speculation as to the significance of the injury and whether #38's career is over.
Sports Illustrated reported that Schilling's doctor insists surgery is required if Schilling is to ever pitch again, although it added that the Sox team physician disagrees and recommends a period of rehabilitation. In his blog Schilling acknowledged the issue but disputed current reports, saying he himself isn't sure what the story is and that his doctor has not recommended surgery. On Saturday the Boston Globe reported that Schilling had just received a cortisone shot in his shoulder, the first step in a rehabilitation strategy that could aim to have him back in the lineup by the All-Star break.
After that the picture only gets murkier. In a Sports Illustrated article Schilling's physician asserts "I think his chance of coming back to pitching with rehab or a conservative approach is zero. He might not come back after surgery, either. However, if the surgery is successful, he should be fully rehabbed by about All-Star break." Conversely, David Altcheck, a Mets team physician consulted by the Sox and who performed rotator cuff surgery on Pedro Martinez after the 2006 season casts doubt on that assessment. In a Boston Herald article Altcheck is sourced as saying it takes a year to bounce back from rotator cuff surgery. Part of the equation is what would happen money-wise if Schilling were to miss the entire 2008 season. Most likely in that event the Red Sox would seek to void his contract.
I hope this isn't the end for one of the greatest pitchers in the game today, although even without this injury most Sox fans probably assumed that, at age 41, this was Schilling's last season. Certainly the Sox front office believed it, thus the one year 2008 extension deal at a much reduced salary.
Curt Schilling's Red Sox career:
Regular Season:
| | | | | | |
| --- | --- | --- | --- | --- | --- |
| Year | IP | W | L | SO | ERA |
| 2004 | 226 | 21 | 6 | 203 | 3.26 |
| 2005 | 93 | 8 | 8 | 87 | 5.69 |
| 2006 | 204 | 15 | 7 | 183 | 3.97 |
| 2007 | 151 | 9 | 8 | 101 | 3.87 |
Post Season:
| | | | | | |
| --- | --- | --- | --- | --- | --- |
| Year | IP | W | L | SO | ERA |
| 2004 | 22.2 | 3 | 1 | 13 | 3.65 |
| 2007 | 24 | 3 | 0 | 16 | 3.00 |